About Mar e Sol and Ponta do Ouro
Mar e Sol is situated in Ponta do Ouro, Mozambique, just 30 minutes drive from the Kosi Bay border. Sheltered in a dune forest just above the bay, the houses at Mar e Sol put you right in amongst the life of Ponta do Ouro, while at the same time providing you with tranquil surroundings, and a relaxing atmosphere.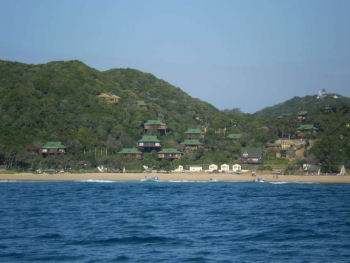 A picture taken at Mar e Sol
With its view of the bay, and such beautiful surroundings, you won't want to leave your deck, but if you really want to experience Ponta do Ouro, then a short walk to beach is all you need to get to the heart of it. Not far away lies a market, restaurants, shops and a few diving camps. Further along the road towards Ponta Malangane you'll find a 4x4 driving trail as well as a restaurant or two. Swimming, surfing, diving, fishing and all sorts of other activities are available in the bay area that are sure to provide you with enough excitement to keep you busy for quite a while. If you want a more relaxing holiday, then walks on the beach, or up to the lighthouse, will give you a chance of seeing turtles laying eggs (October to December), or some of Ponta's dolphins surfing in the waves. The house (Number 13 & 14) sleeps 10 with two bathrooms and four bedrooms, each with air-conditioning and overhead fans. Two of the rooms have direct access to the deck, one of which has an en-suite bathroom. Extras include a dishwasher (number 13 only) and a side by side fridge/freezer with a built in water filter and ice maker. DSTV is available and included in your rental, but you might want to bring a few DVDs to play in case the weather gets bad. The house is serviced twice daily, just make sure to arrange the cleaning times with reception when you arrive.