Fishing at Ponta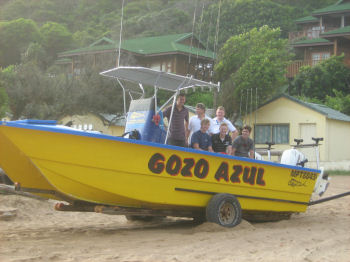 The Gozu Azul about to set off.
There are many excellent fishing opportunities at Ponta do Ouro. Rock and surf, deep sea and fly fishing are all options worth exploring. Catches from the shore include Pompano, Rock Cod, Sand Sharks, Stumpnose and Kingfish exceeding 20kg as well as many other species. Fishing from a boat/jet-ski/kayak you can hope to catch Couta, Wahoo, Tuna, Dorado and possibly Amberjack. We recommend the following fishing charters: Gozu Azul - 6 Persons from R3500
Praia de Ouro Sul's Filho de Praia - 4 Persons from R4000 No bottom fishing allowed. Catching of Potato Bass is strictly prohibited as well as the capture of reef fish. Permits for fishing as well as boat/jet-ski launching permits can be obtained from the maritime officer (normally found at the boat launching area in his white shirt).